Contact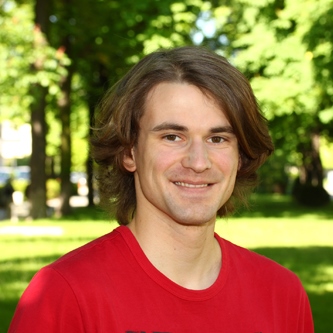 Mailing address:
Fraunhofer HHI
Einsteinufer 37
10587 Berlin
Germany

Visitor address:
Room 04-17
Otto-Dibelius-Straße/Salzufer 6
10587 Berlin
Entrance at Otto-Dibelius-Strasse

Phone: +49-(0)30-31002-618
E-mail: eric.wisotzky@hhi.fraunhofer.de


Eric L. Wisotzky is research associate at the Computer Vision & Graphics Group in the Vision & Imaging Technologies Department.

His R&D activities are related to the following keywords: biomedical imaging anaysis,multi- and hyperspectral tissue analysis, augmented/mixed reality for medical applications, 3D reconstruction

For further details about his activities please check the subsections below.

Biography
Biography
Eric L. Wisotzky received his BSc and MSc degrees from Heidelberg University, Germany, in 2012 and 2014, respectively. After a research visit at Sydney Medical School at the Sydney University, he is currently working toward the doctoral degree at Humboldt University of Berlin and Fraunhofer Heinrich-Hertz-Institute. Together with the Department of Otolaryngology of Charité Berlin, he is working on new image-guided surgery techniques. His research interests span from imaging physics to image processing and modeling in medicine.
Education
10/2008 - 08/2014
Studies in Physics at Heidelberg University, Final degree M.Sc.
08/2014
Master Thesis: "High Resolution 3D Cone-Beam-CT Restoration using a Local Total Variation and Curvature Minimization Algorithm"
03/2012
Bachelor Thesis: "Automated marker tracking for intrafractional image guidance in radiotherapy"
Work and Research Experience
since 05/2016
Research Associate, Computer Vision & Graphics Group, Fraunhofer HHI
03/2015 - 11/2015
Research Associate, Fachgebiet Navigation & Robotik, Charité - Universitätsmedizin Berlin
10/2014 - 01/2015
Visiting Research Fellow, Radiation Physics Laboratory, Sydney Medical School, University of Sydney
05/2013 - 09/2014
Student Research Assistant, Medical Technology, Fraunhofer IPK
04/2011 - 04/2013
Student Research Assistant, Physics Modelling, German Cancer Research Center
Publications
Publications
2020
E. L. Wisotzky, P. Arens, S. Dommerich, A. Hilsmann, P. Eisert, F. C. Uecker,
Determination of optical properties of cholesteatoma in the spectral range of 250 to 800 nm,
Biomedical Optics Express, 11(3), 2020.
[bib]
[pdf]
[url]
2019
E. L. Wisotzky, B. Kossack, F. C. Uecker, P. Arens, S. Dommerich, A. Hilsmann, P. Eisert,
Validation of two techniques for intraoperative hyperspectral human tissue determination,
Proceedings of SPIE, 10951:109511Z, 2019.
[bib]
[pdf]
[url]
E. L. Wisotzky, J.-C. Rosenthal, P. Eisert, A. Hilsmann, F. Schmid, M. Bauer, A. Schneider, F. C. Uecker,
Interactive and Multimodal-based Augmented Reality for Remote Assistance using a Digital Surgical Microscope,
IEEE Conference on Virtual Reality and 3D User Interfaces (VR), Osaka, Japan, 2019.
[bib]
[pdf]
[url]
E. L. Wisotzky, F. C. Uecker, S. Dommerich, A. Hilsmann, P. Eisert, P. Arens,
Determination of optical properties of human tissues obtained from parotidectomy in the spectral range of 250 to 800 nm,
Journal of Biomedical Optics, 24(12):125001, 2019.
,

[bib]
[pdf]
[url]
E. L. Wisotzky, F. C. Uecker, P. Arens, A. Hilsmann, P. Eisert,
A multispectral snapshot camera method to analyze optical tissue characteristics in vivo,
Proc. Computer Assisted Radiology and Surgery (CARS), Rennes, France, 2019.
[bib]
[pdf]
[url]
J. Aderhold, R. Brüning, P.-G. Dittrich, W. Grählert, F. Gruber, M. Hubold, R. Illmann, J. Jonuscheit, G. Notni, A. Rinnhofer, M. Rosenberger, M. Schöberl, E. Wisotzky,
Grundlagen und Methoden in der HSI,
In M. Sackewitz (Hrsg.), Leitfaden zur Hyperspektralen Bildgebung, Vision Leitfaden 19, S. 16-36, Stuttgart, Fraunhofer Verlag, 2019. ISBN 978-3-8396-1502-7
[pdf]

E. Wisotzky,
HSI in der diagnostischen und therapeutischen Medizin,
In M. Sackewitz (Hrsg.), Leitfaden zur Hyperspektralen Bildgebung, Vision Leitfaden 19, S. 80-83, Stuttgart, Fraunhofer Verlag, 2019. ISBN 978-3-8396-1502-7
[pdf]

B. Kossack, E. L. Wisotzky, R. Hänsch, A. Hilsmann, P. Eisert,
Local blood flow analysis and visualization from RGB-video sequences,
Current Directions in Biomedical Engineering, 5(1):373-376, 2019.
[bib]
[pdf]
[url]
B. Kossack, E. L. Wisotzky, A. Hilsmann, P. Eisert,
Local Remote Photoplethysmography Signal Analysis for Application in Presentation Attack Detection,
Proc. Vision, Modeling and Visualization, Rostock, Germany, 2019.
[bib]
[pdf]
[url]
A. Schneider, M. Lanski, M. Bauer, E. L. Wisotzky, J.-C. Rosenthal,
An AR-Solution for Education and Consultation during Microscopic Surgery,
Proc. Computer Assisted Radiology and Surgery (CARS), Rennes, France, 2019.
[bib]
[pdf]
[url]
J.-C. Rosenthal, E. L. Wisotzky, P. Eisert, F. C. Uecker,
Endoscopic Single-Shot 3D Reconstruction of Oral Cavity,
Proc. 41st IEEE Engineering in Medicine and Biology Conference (EMBC), Berlin, Germany, 2019.
[bib]
[pdf]

2018
E. L. Wisotzky, F. C. Uecker, P. Arens, S. Dommerich, A. Hilsmann, P. Eisert,
Intraoperative hyperspectral determination of human tissue properties,
Journal of Biomedical Optics, 23(9):091409, 2018.
[bib]
[pdf]
[url]
E. L. Wisotzky, P. Arens, F. C. Uecker, A. Hilsmann, P. Eisert,
A hyperspectral method to analyze optical tissue characteristics in vivo,
Proc. Computer Assisted Radiology and Surgery (CARS), Berlin, Germany, June 2018.
[bib]
[pdf]
[url]
2017
E. L. Wisotzky, A. Hilsmann, P. Eisert,
A Multispectral Method to Analyze Optical In Vivo Tissue Characteristics,
Medical Physics, 44(6):3019, 2017.
2016
E. Wisotzky, R. O'Brien, P. Keall,
Technical Note: A novel leaf sequencing optimization algorithm which considers previous underdose and overdose events for MLC tracking radiotherapy,
Medical Physics, 43(1):132-136, 2016.
[bib]
[pdf]
[url]
2015
E. Wisotzky, M. F. Fast, U. Oelfke, S. Nill,
Automated marker tracking using noisy X-ray images degraded by the treatment beam,
Zeitschrift für medizinische Physik, 25(2):123-134, 2015.
[bib]
[pdf]
[url]
2014
E. Wisotzky, M. Käseberg, E. Keeve,
Three-dimensional TV Minimization Algorithm using Total Curvature,
Biomedical Engineering, 59(S1):571, 2014.
2013
M. F. Fast, E. Wisotzky, U. Oelfke, S. Nill,
Actively triggered 4d cone-beam CT acquisition,
Medical Physics, 40(9):091909, 2013.
[bib]
[url]
2012
E. Wisotzky, M. F. Fast, T. König, U. Oelfke, S. Nill,
Image quality and dose measurements for a new exposure-modulated linac-based kV cone-beam CT device,
Medizinische Physik 2012, Proc. p. 363-367, 2012.
[bib]
[pdf]
E. Wisotzky, M. F. Fast, S. Nill, U. Oelfke,
Automated Marker Tracking for Intra-Fractional Image Guidance in Radiotherapy,
Medical Physics, 39(6):3604, 2012.
M. F. Fast, E. Wisotzky, U. Oelfke, S. Nill,
Simultaneous Use Of An Electromagnetic Tracking Device And A Conventional Flat-panel X-ray Imager,
Radiotherapy and Oncology, 103(S1):334, 2012.
[url]
Projects
Projects
HistoDect

Automatic Multi-Spectral Tissue Analysis During Surgery Duration: Mai 2018 - April 2020
Project Webpage


MultiARC

Multimodal AR-assisted ENT-Surgery Duration: September 2018 - August 2021
Project Webpage


TeleSTAR

Telepresence for Surgical Assistance and Training using Augmented Reality Duration: January 2020 - December 2020
Project Webpage


M3D

Mobile 3D Capturing and 3D Reconstruction Duration: October 2015 - November 2018
Project Webpage